ST. LUKE'S ANNOUNCES OCT. 26 ADMISSION PREVIEW
St. Luke's Episcopal School will be holding The St. Luke's Experience: An Admission Preview on Wednesday, Oct. 26. The morning event will include a tour of the school's hilltop campus, visits to students and teachers in classrooms and remarks by key administrators. Join other families to learn how the St. Luke's program is committed to providing a dynamic 21st century education to boys and girls in grades PK3-8. Registration begins at 8:45 a.m., and child care is available with reservation. Visit www.sles-sa.org or call 210-826-0664 to RSVP and for more information.
ST. LUKE'S STUDENT SELECTED AS "TEAM UP CHALLENGE" LEADER
Claire Brown, an eighth-grader at St. Luke's Episcopal School, has been selected to work with the Silver & Black Give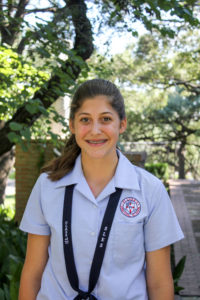 Back Team Up Challenge as a member of their Junior Review Committee. Brown was one of 10 students chosen from across the city to review Team Up applications, perform site visits and make recommendations for the distribution of $40,000 in grant money to youth-led service projects for the betterment of the San Antonio community. One of the requirements to serve on the committee is prior Team Up Challenge experience, which Brown has received at St. Luke's, as the school has been a Team Up semi-finalist two out of the past three years. "It's rigorous but very rewarding," reflected Brown of her experience so far. She has learned to manage the responsibilities of scheduling and conducting the site visits by herself and has enjoyed researching the organizations in advance of her tour. As someone who is personally committed to community service, she has been inspired by seeing other students' projects. "I was impressed by the number of students my age I saw volunteering this summer," she commented.
SAINT MARY'S HALL CINEMA GRAD WINS AT JOSIAH MEDIA FESTIVAL
Saint Mary's Hall graduate Alexia Salingaros (Class of 2016) recently won second place in the documentary category at the Josiah Media Festival for her film Of Gods and Bells. Salingaros, now a film student at New York University, is among 12 prize winners across four genres and is the only winning filmmaker from Texas. The internationally-recognized Josiah Media Festival is one of the nation's longest-running film festivals exclusively for young filmmakers, and receives thousands of entries each year from more than 50 countries around the world.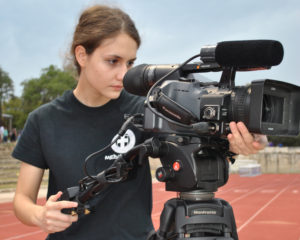 Of Gods and Bells (which also earned Salingaros a finalist spot in the "America I AM" competition at the Tribeca Film Festival) was screened at the URBAN-15 Studio in San Antonio on Oct.8, during the final day of the Josiah Media Festival.
AHISD STUDENTS FEATURED IN THE STUDENT SHOWCASE AT TASA/TASB CONVENTION
The Texas Association of School Administrators (TASA) and Texas Association of School Boards (TASB) host an annual conference. Over 5,000 school board members and school administrators travel to this premier event, held September 23-25 at the George R. Brown Convention Center in Houston.
A highlight of the conference is the Student Showcase, a performance by students from TASA and TASB Presidents' Districts. AHISD Superintendent of Schools, Dr. Kevin Brown, is currently serving as the president of TASA, so Alamo Heights ISD students were invited to perform, showcasing their talents and a very special message during the second general session, at on Sept. 24. Titled, "Shaping the Future of Texas," the performance highlighted the great and important work of all Texas school districts, and celebrated the joy in teaching and the love of learning.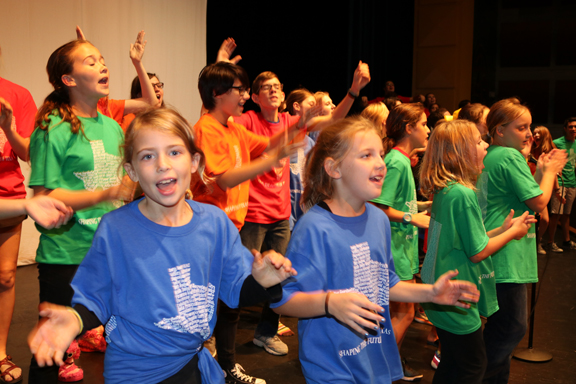 The show opened with a performance of One Voice, sharing the message of how every voice matters and is important in the life of a child. Students moved into a performance of the locally recognized, Because of You. The song was written by singer/songwriter Lucas Jack and is featured in the Go Public campaign. Jack learned of the message of the state performance and generously allowed Alamo Heights ISD to use the song in their performance. The lending of his lyrics allowed the district to give voice to the goodness of Texas public schools. (LucasJackMusic.com) In addition to the unique musical performance, the words of the song were brought to life through creative interpretative dance or shadow movement performed by the Alamo Heights High School Spurs. The show featured a beautifully shot and edited video that illustrated the great work being done in classrooms throughout the state. Students then told the story of the student, using the words of Rachel Platten's Better Place to remind audience members that public schools are better because of the unique work that they do. The closing song was an uplifting mix of Ode to Joy and Joyful, Joyful with all students, ages 6 to 18, singing to celebrate the joy of learning. At the close of the show, students received a standing ovation from the 4,000 attendees.
The work was a collaborative effort of all AHISD choir, band, strings and theater programs. A special art feature was envisioned by district art teachers and produced by students from Cambridge Elementary. During the conference, the Texas Art Education Association showcases K-12th-grade student work. This year, Alamo Heights ISD moved from the traditional gallery concept to an engaging, interactive installation. Encouraging attendees to actually touch the art, the Making Faces installation featured abstract art pieces created by elementary students, that could be moved and placed so that unique displays could be created. Artists were invited to take a "selfie" with their creation, adding in the hash-tag, #shapingthefutureoftexas, which was then posted to social media, creating an online gallery that was toured worldwide.
The development of the show, performance and art collaboration was an amazing experience for both students and directors.
TEACHER FROM AHISD WINS KENS 5 EXCEL AWARD
KENS 5 and San Antonio Credit Union surprised students engaged in a math lesson with Woodridge 5th grade teacher Shawn Simpson recently, announcing that he had been named the ExCEL Award recipient for Alamo Heights ISD.
Simpson has been teaching at Woodridge for 19 years. He has a passion for teaching math, which is evident in all that he does. Shawn works hard daily to build students' confidence as mathematicians by giving his time before school and during lunch to make sure students are successful and on track.
Principal Debbie Garinger shared, "Shawn's high expectations push students to achieve more than they even thought possible. Students leave his classroom with a strong foundation in math and ready for the next level. "Shawn Simpson is an amazing educator who truly believes all students are capable of excelling in math. He's an asset to his team, the campus and the entire Alamo Heights community. I can think of no one more deserving of the ExCEL award," Garinger said.
SACU and KENS 5 joined together in 1999 to recognize local public school teachers for their innovative practices and the differences they are making in the classroom and beyond. Since then, the ExCEL Award program has done just that. Annually, one teacher from each of the 19 area school districts is honored with a $1,000 check from SACU during an on-campus presentation, followed by a news feature on KENS 5.
AHISD'S DR. JIMMIE WALKER WINS PRESTIGIOUS AWARD
Alamo Heights ISD's Dr. Jimmie Walker has been selected as the recipient of the 2016 Carnegie Project of the Education Doctorate (CPED) Dissertation in Practice Award for her work entitled Brain-targeted early childhood beginnings: A case study in India.
"The CPED Dissertation in Practice Award Committee received numerous high-quality nominations, all of which were strong examples in the field," shared Jill A. Perry, CPED executive director. "The purpose of this award is to honor scholarly practitioner work, grounded in high-quality research, that seeks to create change in practice by solving problems, while thinking, performing and acting with integrity. Nominated in June, Walker's work was chosen an exemplar for this year."
As the award recipient, Walker is invited to join the elite CPED Consortium in October, at Augusta University in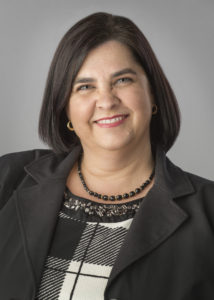 Augusta, Ga. where she will be formally presented with the award of $1,000 and a plaque. Walker has also been asked to prepare a 15-minute presentation of her work to share with convening participants, introducing her project and discussing the potential for impact both upon future practice and the field of education more broadly.
In the body of her work, Walker illustrates, "There is an abundance of information about connections between research from learning science and early childhood, but a significant gap in the literature exists about how schools should proceed to design and implement a curriculum to integrate these findings into daily lessons and practice within an early childhood context. The rationale for this study is to close the gap between research and practice and offer an implementation example for early childhood centers and schools."
Walker was thrilled, exclaiming, "I am on cloud nine! I am excited to have won the Carnegie Foundation Award, but I am even more excited for the opportunity to write an article for a top-tier journal." (Another benefit of the award distinction.)