Ask Roxie!
As with any day care, doggy day care guests are in close proximity, rolling around, roughhousing and exchanging lots of sniffs and spittle. And viruses and bacteria just love that. They jump from pooch to pooch, getting hounds sick.
Lucy's Doggy Daycare's Mike Kiper says it takes vigilance to fight the contagious bacteria, "bor-de-tella bron-chi-septica," which causes kennel cough.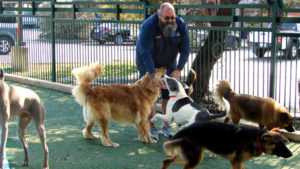 "We're always, always cleaning. If you look at the facility and the yards, we are picking up all of the 'dog do' all of the time, and every yard is sprayed down at night with a bleach and water mixture. It dries overnight so we don't have to worry about burning a dog's feet." Inside, Lucy's private sleeping rooms and bath basins are cleansed with hydrogen peroxide, which doesn't irritate foot pads like bleach.
At Lucy's where customers from 78209 are serviced, NO dog is admitted unless it has had a kennel cough vaccination because "tracheo-bronchitis" is highly contagious. And those vaccinations must be updated every six months!
Ignoring symptoms risks pneumonia. If Fido's coughing, suffering a runny nose and lethargic, call the vet. Meanwhile: Keep your dog warm and dry. Give him lots of clean, fresh water, and yes, some warm chicken broth. For goodness' sake, don't leave the poor mutt out in cold weather, and consider getting him or her a vaporizer to soothe sinuses. Ask your vet about saline nasal drops too.
The good news is that kennel cough is treatable. Now for cats. Not my favorite topic, but I know that many of you humans "own" cats and yes, they too get colds.
Dr. Tracy Tommack, DVM, of Traveling Tails Vet Clinic also servicing clients in 78209, has two of those freeloaders sitting around her reception desk, greeting customers.
"Dogs and cats are susceptible to these cold viruses," she says. "Cats are not open-mouthed breathers, so they use that tiny airway to breathe, so everything, (including germs) is coming in and out."
The common cold affects horses. They'll show signs of a runny nose, poor appetite, lethargy and deep raspy breathing. So respiratory ailments affect many mammals, like the various bird influenzas and the swine flu.
And be careful if you get the flu. Researchers at Oregon State University have been investigating "reverse zoonosis" when humans pass their virus to animals. A report from the 2009 H1N1 flu epidemic showed that an afflicted patient gave his freeloader, uh, his cat, the flu.
BY BERIT MASON