This month is all about gifts, food, wine,  and events for celebrating love. Enjoy these delectable treats and delicious offerings. Then take a cooking class or two to learn how to prepare these in your own home! There are so many places to enjoy just outside 78209!
High Street Wine Co.
Keep things cordial with your favorite grapes at High Street Wine Co., the new wine bar at the Pearl Brewery. Savor one of the 170 labels selected by the in-house master-level sommelier, or buy a bottle for the table. You can also sample wine flights and snack on small plates.
Art of the Doughnut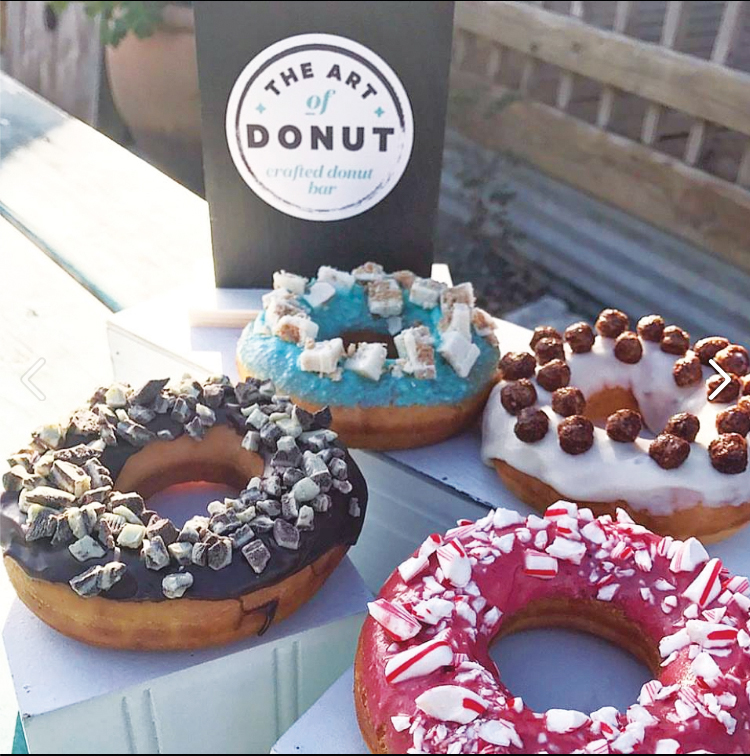 I was intrigued by this concept — doughnuts stuffed, topped or flavored in more ways than one. You will have to journey a bit farther for this specialty … a crafted doughnut and coffee bar serving up deliciousness at The Point Park & Eats Trailer, located at 24188 Boerne Stage Road. You just won't believe some of the toppings— bacon, cream cheese, Canadian ham, cajeta, jelly, etc. Give it a try.
El Mirador Reopens
After being closed for renovations since May, El Mirador has reopened – same house, same place on S. St. Mary's. A few upgrades and changes add a touch of flair here and there!
Spread the word about Chisme
It's a brand-new Tex-Mex restaurant and patio bar from the group who brought you The Monterey and Barbaro and located inside the original Teka Molino at 2403 N. St. Mary's. Look for the colorful welcoming sign on the strip, then dine in or out, and enjoy creative cocktails and specialties such as cheese on fire, charred Brussels sprouts or the passion fruit-coconut tres leches.
Ming's Noodle Bar
Ming's Noodle Bar, a new project from the family that brought Ming's Thing catering, opened in the Yard in Olmos Park in mid-December. Takeout is available by calling Ming's Thing at 210-570-6318.
Max and Louie's New York Diner
It's been open a few months now, and the raves keep pouring in … this place is popular! Head over to 226 W. Bitters for your matzo ball soup fix or the pastrami chili cheese fries, and don't skimp on the pickles. Friends I know have hosted parties there, others love the breakfast, and it's as close to New York as you're gonna find around here.
Happy Hour – La Roca Cantina
A full bar, laid-back vibe and tasty, reasonably priced cocktails await you at this new cantina at 416 8th St. (two blocks east of Broadway and just west of Interstate 37) that has opened inside an old house. You'll find spacious rooms and a few TVs so you can catch a Spurs or Cowboys game, and DJs spin vinyl on weekends, but this would also be an especially sweet spot for an after-work drink.
Tacos No More
It was just a month or two back that I wrote about Tacoart in the Quarry at the Village. No sooner did you figure out where to park than the locale closed at the end of December.
Chocollazo Shop
Valentine's Day is upon us, and what better way to celebrate and satisfy than with chocolate? Treat your date to this dessert restaurant where you can satisfy your sweet tooth and treat your true love with decadent desserts, candies, bonbons, cookies, cheesecake, hot chocolate, pastries, truffles, toffee, ice cream and more. Find a special something for that special someone, or stop by and try the customer faves. Confections are handmade in small batches, using premium Belgian chocolate and no preservatives. Go to www. chocollazo.com for hours, or stop by 4013 Broadway and treat yourself!
Cooking Classes
Treat your Valentine to a cooking class at the Culinary Institute of America at the Pearl. Bring out your hidden chef at any one of these classes:
Classic Comfort Food: Breakfasts and Brunches: Feb. 11
Do you crave home-style buttermilk biscuits and gravy, stuffed French toast with maple syrup and pecan butter, or Belgian waffles topped with Grand Marnier-infused strawberries? Come explore the comfort foods that will take breakfast in bed to the next level.
Kids Kitchen: Feb. 25
Parents and kids are invited to learn how to make kid-friendly CIA Classics like mac and cheese, tomato soup and croque monsieur (grilled ham and cheese sandwich). Recipes and tasting will be provided.
Spain and the World Table: Feb. 25
Get ready to fall in love with Spanish cuisine! Inspired by the CIA professional conference by the same name, this class is an exploration of the best of the culinary traditions and innovations from Spain. You'll learn all about the iconic ingredients, cooking techniques and dishes that the country is known for as you prepare mouthwatering creations like hazelnut-crusted halibut with spicy Romesco and aioli, chorizo-stuffed mushrooms or classic paella with vegetables. Call 210- 554-6400 or visit www.ciachef.edu/cia-texas/ to learn more.
Fredericksburg Road Studio Tour
Bihl Haus Arts will celebrate the 10th anniversary of the On and Off Fredericksburg Road Studio Tour during the annual gallery walk from 11 a.m. to 6 p.m. on Saturday, Feb.18, and noon to 5 p.m. Sunday, Feb. 19, in San Antonio's historic Deco District.
"Fred," as the event is known, is San Antonio's longest continuously running, self-guided tour of private homes, art studios and galleries of more than 50 artists, including painters, sculptors, photographers and metalsmiths.
Attendees can purchase either the hardcopy color catalog with a map to help plan their route, artist bios and images of their work, or the online catalog for $10. For more information, visit www.OnandOffFred.org or call Bihl Haus Arts at 210- 383-9723.
Kendra Scott Home Collection
Kendra Scott is expanding her merchandise offerings. In addition to sparkling jewelry, she has added a 26-piece collection including architecture-inspired filigree frames, decorative boxes with Lucite handles and stone trays made of semiprecious chevron amethyst and accented with bright brass. Stop by Kendra Scott in the Quarry Village and see what's new.
By Leslie Foley