Terrell Hills Ushers in Leadership Changes
The new year marks a new era in city administration for Terrell Hills. Columbus Stutes, who has served as city manager for more than five years, ended his nearly 40-year career with the city, retiring in January.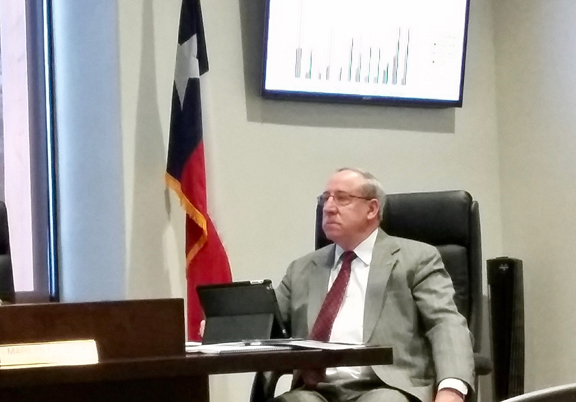 Greg Whitlock, who has been police chief/assistant city manager, became city manager Jan. 1. Assistant police chief William Foley, who has spent 12 years with the police department, was promoted to police chief.
Local officials and residents gathered at City Hall on Jan. 11 for a retirement party, where they praised Stutes and bid him a fond farewell. Mayor Anne Ballantyne said that toward the holiday season, Stutes began talking more about retirement so he could spend more time with family. "I thank him for staying on as long as he did," she said.
Stutes began working with the city in January 1978 as a probationary firefighter. Over the following years, he held numerous positions in the fire department, culminating in his appointment as fire chief in 1997. At the time, he also took over the building and codes department, overseeing permitting and inspection processes.
After Mark Browne departed Terrell Hills' city manager's position to take up the similar job in Alamo Heights, the City Council appointed Stutes as interim manager in May 2011. Five months later, the city took off the interim tag.
"I have had the opportunity to work for and with six different city managers and observe different management styles and a variety of administrative process applications," Stutes said. "Each provided me with a diversity of perspectives that I believe helped me be successful in my position."
Stutes praised past and present mayors and council members. "I have had the pleasure of working with a City Council made up of professionals that truly have the best interest of the city in mind, and that has allowed me and my staff to provide exemplary services to the community."
Ballantyne said over the decades Stutes not only accumulated institutional knowledge of the city's inner workings, but formed professional relationships with many past and current city employees and leaders, which has benefited the community. Specifically, the mayor pointed to a few years ago when renovations were underway at the municipal complex."Columbus steered us through all that. On some nights, he'd be up there at 3 a.m.," she added.
After Whitlock expressed interest in the city managerial post, the council in December set in motion a plan to have him transition into his new role. In January, Stutes served as an executive coordinator, consulting with Whitlock.
"I am sure Greg Whitlock in the position will continue to enjoy the same support of the council, staff and the community that I had," said Stutes.
Ballantyne praised Whitlock, saying he has increased the level of professionalism within the police force. "He saw those personnel who needed extra training and sent them there," the mayor said. "He set a standard of expectation that was perhaps lacking before in the department." She added that Whitlock sees the city manager's job as an exciting challenge. "He'll be beneficial," she said, referring to his people skills and community relations talents.
Whitlock had spent the past eight years as police chief, combining assistant city managerial duties the last three-plus years. He said he relishes the city manager's position, but does not feel it entirely different from what he has seen prior to his promotion.
"I've filled in for Columbus when he's gone out of town or on vacation," he said. "It's not like I'm jumping into something I'm not used to."
BRIEFS
Election Filing Ends February 17
People wanting to file for a place on the May 6 general election ballot must do so by 5 p.m. Feb. 17. The filing period began Jan. 18.
In Alamo Heights, the mayoral seat and City Council Places 1 and 2 are up for election this year. Louis Cooper, Lawson Jessee and Bobby Rosenthal, respectively, are incumbents.
In Terrell Hills, Council Places 3 and 4 are available. William Ochse and Marilyn Eldridge are the incumbents. Terrell Hills officials are also considering a bond issue for road improvements, plus city charter amendments, for May 6.
Places 3 and 4 — on the Alamo Heights Independent School District board are up for election. Lynn Thompson and Margaret Judson are the incumbents.
All San Antonio council seats, including Districts 10 and 2 and the mayor's seat, will be on the ballot. District 10 Councilman Mike Gallagher announced he is not seeking re-election.
As of Jan. 15, former Councilman Keith Toney and attorney William "Cruz" Shaw are challenging incumbent Alan Warrick for the District 2 seat.
The city of San Antonio is also expected to act in February to call for a May 6 bond election.
Feb. 17 is the final day to order a general election or ballot measure for May 6. Early voting will be held April 24-May 2.
Heights Area-Based Health Care Service Launches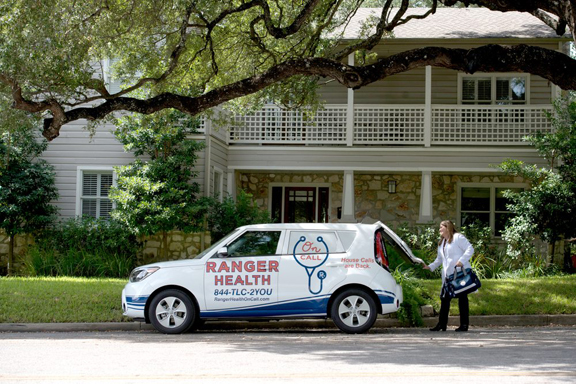 Ranger Health, a San Antonio health care startup, recently launched a house call service for minor emergency and urgent care needs. Using a mobile app, San Antonio-area residents can schedule a same-day visit by a physician assistant (PA) in their home or office.
Ranger Health On Call's PAs work under the supervision of a physician and can diagnose and treat illnesses, allergies, sprains, strains and skin conditions, among other common afflictions. The PAs also stitch lacerations, conduct school and sports physicals and administer vaccines and flu shots.
Ranger Health's offices are located at 250 W. Nottingham near Alamo Heights. Its service is available 8 a.m.-8 p.m. weekdays and 9 a.m.-6 p.m. Saturdays. The average visit cost is $95. Customers can pay through several options, including with their Health Savings Account, Flexible Spending Account or debit/credit card.
BY EDMOND ORTIZ