A monthly report of social happenings involving 78209 residents enjoying life in the Loop.
'Tis the month of chocolates, champagne, hearts, greeting cards and everything heartsy that goes with Valentine's Day. Why not invest in something a bit more lasting and pleasing to the eye? Art, for instance, is a wonderful gift and one that can be purchased for special occasions or for the love of art. A painting that speaks to you or moves you or a work of art that fits the perfect space are a few reasons we love art in all shapes, colors and mediums.
A Party for Friends and Artists
After visiting AnArte Gallery, art studio of Ana Montoya, and the beautiful house she shares with her boyfriend, Gobie Walsdorf, one appreciates the various artists, paintings, collections and creativity of art pieces adorning her walls.
I recently attended a party at Ana's lovely home, where aromas of Cuban specialties filled the air (courtesy of Ana and guests bringing a dish to share), music played in the background, wine flowed freely, mojitos were created, and guests mingled and made merry. Artist Bettie Ward and her boyfriend, William Wadsworth, visited from Santa Fe, and her close friends Patricia Pratchett and Dr. Bart Nichols were there too. Ward and Pratchett created the Artist Foundation of San Antonio with a goal to grant awards annually to at least one artist in these categories: performing arts, visual arts, media arts and literary arts.
The evening included several other guests: Cari Hil, who was taking a break from chairing the Southwest School of Art gala the following night, chef Lisa Astorga-Watel of Bite Restaurant, and her husband, chef Damien Watel of Chez Vatel Bistro, Hunter Henke and friend Epitacio Resendez, son Louis (a songwriter musician and gallery assistant), and Gobie Walsdorf. Also imbibing fine wines and sampling specialties were Loretta Rey, Todd Johnson, Sherrie Sanderson, Janet Montagne, Elizabeth Leyendecker and her fiancé, Peter Greenblum, Minnie and Ismael Jaber, Teresita Diaz Cuevas, Paulette Jemal and Sonia Galacerp.
Ana is full of life and enjoys hosting great parties with friends, artists and a mix of people not only from San Antonio but near and far. Music selections from the Waldorfs, her son's band Antique Sunlight or the Prados always set the tone. She represents numerous artists, including Brook Rosser, Lucy Peveto, Steven DaLuz, Eric Breish, Fabian Lainez, Wendy Bowman, and NY artist Sandra Mack-Valencia. One can always view a different exhibit on display at her gallery located inside the Collection at Sunset and Broadway. She is also very giving and donates a percentage of her sales to charitable causes she cares about. A few words to describe Ana would be artistic, doting grandmother to Elliott, fun-loving, charitable and giving and over the top in a good way. She ends conversations with "Have a bright and colorful day!"
Speaking of ART
The Alamo Kiwanis Club is a service organization in association with Kiwanis International. Founded in 1947, it is one of the largest Kiwanis organizations in Texas. The club's two primary fundraising events — Fiesta Noche del Rio, performed at the Arneson River Theater each summer since 1957, and the Alamo Kiwanis Charity Art Show (formerly The Western and Heritage Art Show), held since 1963 at various venues in early January— have allowed the club to donate more than $2.8 million to local children's charities. The club exists to raise funds for children in need. The evening event held downtown at Henry B. Gonzalez Convention Center featured original art for sale, including oil paintings, sculptures and watercolors. Over 400 pieces of original collectible and investment-grade art, including Western, abstract, still life, landscape, nature, wildlife, sporting and other themes, were displayed and sold. A few artists displaying and exhibiting during this 54th consecutive year included Neka Scarbrough-Jenkins, Mary Overstreet, Sandra Wright and Clay McGaughy.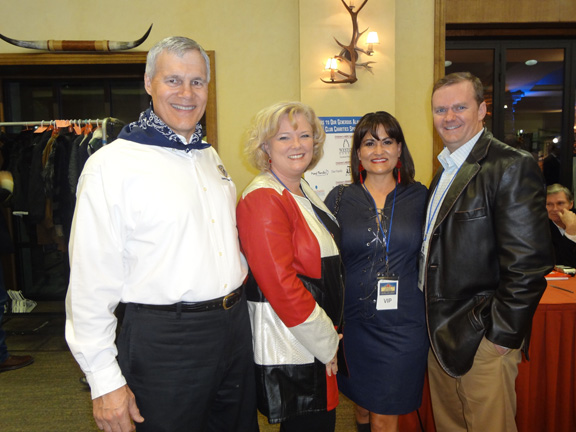 Alamo Kiwanis Club members and attendees included Tracey and Duane Bunce, Kim and Larry Smith, Felicia Baldwin, KaRynn O'Connell, chairman Jeff and Jane Forrester, president Paul Darr and wife Stacey, Sally and Craig Clayton, Ted Voss, Harry Balling, Martha Smith, Kenda and Trae Willoughby and Chris Bond. They viewed works of art, tried their luck at casino games, kicked up their heels, bid on the auction and sampled the fare from the RK Group. Great artwork for a great cause.
Feeling Lucky
Members of the Junior League of San Antonio hosted a new special event, Casino for a Cause: A Night in Monte Carlo. The newest fundraiser took place at The Pearl and featured music by South Texas Jazz, casino games, cocktails, hors d'oeuvres, dessert, a silent auction and a raffle. The cocktail-attired event was chaired by Whitney Ormond and committee members Kim Batchelor, Dinah Hutson, Lindsey Jordan, Scotty Macdaniel, Elizabeth Miller, Suzanne Poynter, Katie Schook, Christina Thompson and Katherine Trumble. Emcees Claudia and Mike Garofalo from WOAI and committee members oversaw the new event, which replaces the spring fundraiser Fête de Cuvée.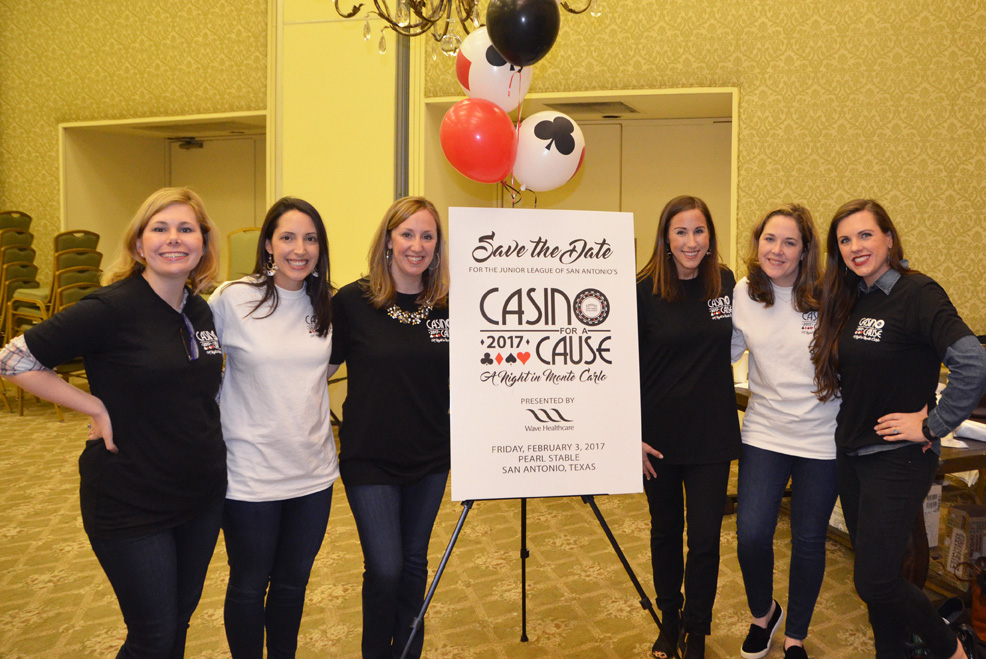 According to event chair Whitney Ormond, "Net proceeds from the event will benefit the community programs and projects of the Junior League of San Antonio, Inc. We are an organization of women committed to promoting voluntarism, developing the potential of women and improving our community through the effective action and leadership of trained volunteers. We support more than 60 local nonprofit agencies with volunteers and necessary funding. We also provide training to our members so they can go out into the community and make a positive impact through their volunteer activities, as well as their professional and personal lives." One high-rolling good time was had by all!
A Day at the Races
There will soon be an all-out search for the perfect chapeaux for the 14th annual Le Brunch Des Chapeaux, benefiting the Autism Community Network. Save the date, April 6 at the Argyle, and find the perfect accessory to "top off" that special outfit. Julian Gold will present spring fashions and party favors, and the best chapeaux will not go unnoticed – it's Kentucky Derby in SA. Event chairs Shalimar Wallis, Edie Wright and Katie Smith will oversee a prelude to Le Brunch: Julian Gold will showcase a Christine Moore millinery trunk show featuring her unique seasonal hats on March 22-24, with 10 percent of all proceeds benefiting the ACN in collaboration with April's event.
Decorations chair Laurie Barnes will bring the theme to life with décor designed to transport you to a Triple Crown event. Tickets can be purchased through the website http://bit.ly/LeBrunch2017. The race is on for the best seat in the house!
Star of Texas Award
On the same evening as the Alamo Kiwanis art show, at the Jack Guenther Pavilion at The Briscoe, the Texas Historical Foundation presented the Star of Texas Award to Charline and Red McCombs, two business and civic leaders who have not only helped preserve Texas history, but also created some history of their own. As native Texans, they have also demonstrated commitment to their historical roots as major supporters of the restoration of San Antonio's 1913 Empire Theatre, listed in the National Register of Historic Places and now a state-of-art performing arts facility bearing Charline McCombs' name. Proceeds from the Texas Historical Foundation Star of Texas event benefited the Texas HERITAGE Magazine Endowment, established by a gift from the McCombs. Peggy and Lowry Mays, Jan and Larry Fischer, Valerie and Jack Guenther, Jane Macon, Felice Wolff, Mark and Carolyn Johnson, Dr. William Henrich, Alethea and Bruce Bugg, Rene and Marty Wender, Nancy Cook-Monroe and the new president of the Brisoe, Michael Duchemin, were in attendance.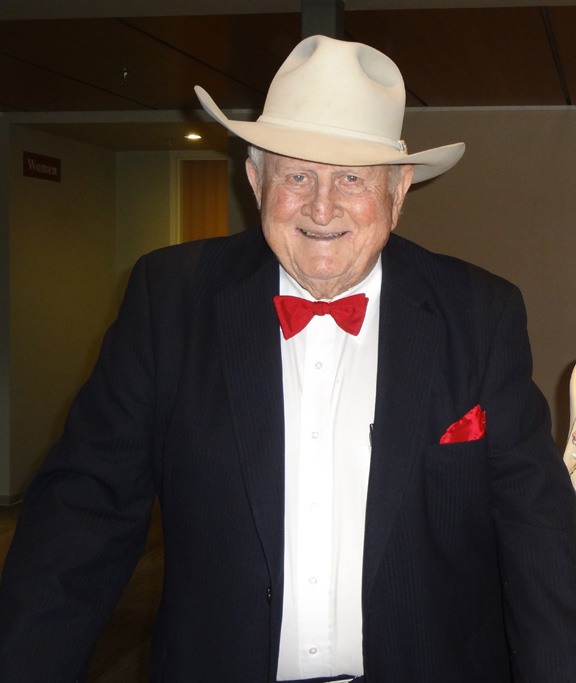 The Alamo Heights Lion Club Supports Toys For Tots
The Alamo Heights Lions Club is continuing its support of the Marine Corps "Toys for Tots" program. The marines have for many years been "Santa" for needy children. Toys for tots will serve more than 25,000 kids in the San Antonio area. The Alamo Heights Lions Club will donate new toys as well as cash to help the marines. Pictured is Alamo Heights Lions Club treasurer Faye Evans presenting the club's check for $1000 to marine master sergeant Carleesha Clark. Sgt. Clark leads to Toys for Tots program in the San Antonio area this year. The Alamo Heights Lions Club also contributes to Any Baby Can to help with their families Christmas needs.
An Evening In '09…Don't Miss It
Bring the whole family for this Alamo Heights Optimist Club Fiesta Event on Saturday, April 22 from 5:00-10:00PM. Dance to the sounds of vintage rock 'n' roll with a group called Throw Back Kids will love the carnival booths, multiple food booths and trucks, pony rides and games. The proceeds go to local nonprofit organizations. Mark Your Calendars Now!
BY LESLIE FOLEY