Ever heard of the Conopus Club? Well, I stumbled across the club back in October and thought our readers might be interested. Founded May 7, 1921, the club has been meeting weekly for several decades, most recently at the San Antonio Country Club. A mobile calendar is updated on their website — lots of fun parties and speakers. Lunch is private, though Conopus members are encouraged to bring a guest, and usually a speaker is on tap. Long-time member Charles Parrish told me about the club over the phone one afternoon, and I went to the website and started poking around. Members gather information from the Tadpole, a bulletin of the Conopus Club, which is issued weekly. The Tadpole was started in 1922; it is the name of their newsletter and mascot. Officers, directors and a few members include Tock McRae, Jonathan Cluck, Randy Harig, John Robb, Ted Meyer, Bill Rasco, Chris Heinemeyer, Tim Timmins, J.B. Crowther, Ty Edwards, Carl Leafstedt, Byron Buzzini, Dr. Bill Gordon, Sherman MacDaniel, Kelvin Tatum, Charlie Jeffers, Marshall Clegg, Ed DeWees, Huard Eldridge, Dr. Pre Bal Jr., Jim Calvert, Steve Sinclair, Jim Drought, Lou Kissling, Jay Buzzini, Judge Tom Rickhoff, John Matthews, Robert Hanley, the Rev. Dr. Louis Zbinden and George Ames.
Women are invited to the spring, fall and holiday parties, (and always receive a special gift) but are not dues-paying members. Their motto: Nihil Facimus Sed Id Bene Facimus — We Do Nothing, but We Do It Well. And to that I say, "Well said!"
Ladies Who DO
It's the start of 2017, but that doesn't mean Rose Marie Banack will take a break. I have known Rose Marie for several years, and I usually run into her at least one or two times a month at an event, luncheon, gala or fundraiser — you name it, she's either in charge of one of the committees, accepting an award, serving on the board or promoting the cause. What you may not know about Rose Marie is that she also has her Texas real estate license and a Master of Arts in education, has been married to attorney Emerson Banack Jr., for 52 years and raised Courtney Banack Shultz and Emerson Banack III.
Rose Marie has been active with the Southwest Craft Center and Family Service Association and served as president of the following: San Antonio Symphony League, San Antonio Junior Forum, Military Civilian Club, Cancer Center Council, Women's Auxiliary of the San Antonio Bar Association, Friends of Hospice, Alpha Phi Alumnae and Royal Oaks Association Garden Club. My friends, that is a LOT of presiding and changing hats, and our hats are off to Rose Marie for her success. And, no, she's nowhere near slowing down.
And residing two doors down is another busy lady and long-time friend, Lynn Thompson. I met Lynn when we worked together for the Junior League. We go way back, and every time we see each other, we continue carrying on from the last visit. She followed me chairing Junior League's Olé Marketplace and then as president of Live Oak Garden Club and once again as president of the Friends of the Ronald McDonald House. Lynn loved seeing the fabulous crowd at Greater Alamo Heights Night supporting the AH School Foundation. She is finishing her third (and final) term as a trustee for the Alamo Heights Independent School District, where she served as president several years ago.
Currently she is involved as chairman of the board of Masters Leadership Program Alumni Association, treasurer of St. Luke's Lutheran Health Ministries, a member of the Battle of Flower Association and at First Presbyterian Church. She and husband Jim have two sons – Will, who is married to Natalie, attorneys in Dallas; and Jim Jr. in Jacksonville working for FIS in corporate liquidity software sales.
Lynn Thompson was the home hostess for Live Oak Garden Club's annual holiday coffee. Members,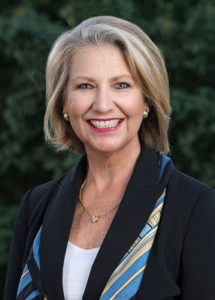 including head hostess Lisa Swann, president Sarah Forney, Nancy Avellar, Pat Krueger, Kayla McDonnell, Ann Biggs, Shirley Bryan, Victoria Wood, Jan Davis, Maxine Kelley, Joan Woodley, Kathie Thrift, Mary Alice Bond, Carolyn Wiggins and Xonia Kargl, who always brings bay leaves for everyone, enjoy monthly meetings to foster interest in home gardening, to encourage civic planting and civic beauty and to protect native trees, wildflowers and wildlife.
At the November and December meetings, club members donate toiletries and cash for Christmas Cheer to purchase gifts and items from H-E-B in Lincoln Heights; members then gather to pack bags and deliver them to the Texas Center for Infectious Disease. And this year on April 6 creative members will put their skills to test to design a floral arrangement with flair for the biennial standard flower show.
Greater Heights Night
The Alamo Heights School Foundation is the oldest school foundation in the state. Its mission is to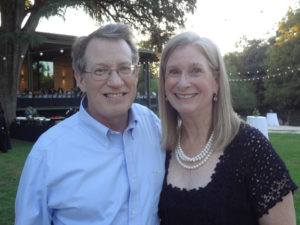 mobilize community support to raise funds for current and long-term educational needs for the Alamo Heights Independent School District. The Foundation funds $800,000 in teacher, campus and district grants each year. I met with Dianne Hughes, executive director AHSF, at the Greater Heights Night gala and visited with several attendees supporting the Foundation, including co-chairs Carey Hildebrand and Becky Gulley, entertainer Hal Ketchum (who performed as a tribute to his children and grandchildren at Alamo Heights schools), Kim and Larry Smith, Tracey and Duane Bunce, Carolyn and Tom Spurgeon, Sally and Craig Clayton, Barclay Wong, Meredith Brewer, Rusty and Kerri Hoermann, Ann and Tock McRae, Stacy and Jeff Foerster, Jimmy Carter, Gordon and Martha Smith, Peter Hennessey, IV (the annual giving chair) and Sam and Kristen Shannon.
Also among the 700-plus guests were Lynn and Jim Thompson, Bonnie and Wade Giddens, John Tippett, Melanie and Perry Shankle, Margaret and Jeff Judson, Dr. Frank Alfaro, Dr. Kevin Brown and wife Page, Hilary and Brian Hamilton, Elizabeth and Merrill Swanson, Carolina and Mike Morell and Mary and Bryan Bush.
The Historic Women's Club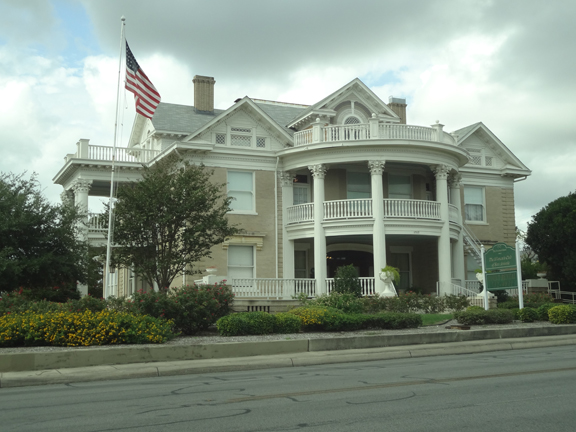 The Women's Club of San Antonio, organized in 1898, was founded by Marion Fenwick, woman's page editor of the Daily Express, and M. Eleanor Brackenridge, clubwoman and philanthropist. There were 15 charter members. Over the years, the club has grown to a group of 260-plus members who meet monthly from October-June in the beautiful Woodward House, their headquarters and home, located at 1717 San Pedro Ave. The house was built over a two- year period by David J. Woodward as a birthday gift for his wife, a member of the Women's Club. The Woodward mansion was purchased by the organization on July 8, 1926, for $47,000.
The club holds the distinction of being a charter member of the Fiesta San Antonio Commission, and for the past 102 years they have participated in Fiesta Week with their annual Fiesta Show. They hold an annual hat contest and "runway of hats" luncheon, which is colorful, fun, festive and very much FIESTA! Mark your calendar for next Fiesta, and don't miss this luncheon. In addition, they sponsor the Fiesta Teenage Coronation and provide a car entry in the Battle of Flowers Parade.
They also provide $10,000 in scholarships to students in the community and rent the clubhouse for weddings, parties and business luncheons. During the fall I had the opportunity to speak to the group and enjoy lunch inside the Woodward House. President B.J. Duncan and immediate past president Jean French, along with Ferne Burney, who set up the afternoon. Members of the organization include Neka Scarbrough-Jenkins, Leona Maples, Ann Le, Helen Jones, Carmen Ingram, Nancy Hein, Jackie Helmke, Laura Salinas, Mary Kay Tenant, Karen Rogers, Susan Monsalvo, Renèe McElhaney, Claire Pronovost, LaRue Terry, Nan Sistrunk, Billie Arredondo, Kay H. Turner, Janice Bowman, Cindy Caltagirone, Dorothy Akers, Rosalie Leykum, Barbara Yu, Elaine Wood, Sylvia Wong, Ellen Myers, Jo Myler, Kim Moreland, Muriel England and Carol Chapman-Ryan.
A Foundation that's all Heart
HeartGift Foundation is a nonprofit organization that brings children from around the world for free surgery to correct life-threatening congenital heart defects. This past fall marked the 300th child whose heart has been mended by the organization, which has five chapters. The San Antonio chapter, established in 2008, has served children from 17 countries and currently has the 46th patient, a 5-year-old boy named Hamza from Kenya, recovering from his surgery. Children and a caregiver usually stay five or six weeks and live with a local host family before returning home.
Nearly one out of every hundred children in the world is affected by a congenital heart defect. Many who live in developing nations are not able to undergo life-saving surgery and will not survive to see their first birthday because of a lack of adequate health care. The children that HeartGift serves return home after surgery with repaired hearts and a new sense of hope for the future. The San Antonio chapter has a partnership with University Health System, whose University Hospital pediatric cardiology team generously donates the significant portion of the medical expenses.
To cover the remaining medical expenses and other necessities such as travel for the child and caregiver, funds are raised through events such as "A Heartfelt Shot," a clay target shoot held in November at the San Antonio Gun Club. Attendees included Mark Travis, event chair for the shoot and board chairman; Charlie Deacon, a founding board member and afternoon participant; Ethel Runion (founding member) and Jamie Sullivan, both event sponsors,of HeartGift, and Chuck Brown, who was not able to participate in this year's event but was a supporter and founding board member as well. Others are Jeff Vance, Jane Coelho, Dr. Biff Furst, Bailey Woods, Edward DeWees III and Brooks Hoszhausen.
TETCO and Turner Foundation Donate $50,000 to Returning Heroes Home
TETCO and the Tom Turner Family Foundation recently donated $50,000 to Returning Heroes Home to assist San Antonio's wounded warriors. Steve Huffman, president of Returning Heroes Home, said the nonprofit will use the TETCO contribution to fund programs and services for injured soldiers on the road to recovery and their families while at Joint Base Fort Sam Houston.
Returning Heroes Home was established in 2007 to provide comfort and support in the best possible healing environment to the nation's brave military men and women and their families on the long road to recovery. To date, TETCO has donated $520,000 to Returning Heroes Home.
This year's annual holiday party at JW Marriott featured entertainer Clint Black, and all the festivities, including fortune tellers, cigar rollers, holiday ornament party favors, holiday pictures, delicious foods and blood orange margaritas that went fast and for good reason! And always cookies galore with coffee and hot chocolate when guests were leaving — most welcome on that cold rainy night.
The Art of Silhouette Making
How many art forms can you watch unfold before your eyes from start to finish in only minutes?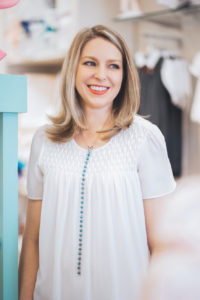 Silhouette making is a dying art form, since there are only a dozen or so silhouette artists left, and Patti Rishforth is trying to change that. The lost art of cutting the shape of a person's profile from a special piece of paper is one that originated in France in the late 1700s. In love with the simplicity of the art form and its rich history, Patti reminds herself and her clients that this is what people did long before the camera came along. She made her way to San Antonio on Oct. 15 to Bambinos Boutique, 999 E. Basse Rd., Suite 196. Bambinos is a baby and children's boutique that has served families in San Antonio 21 years. Boutique owner and Alamo Heights resident Karen Saunders hosted the silhouette event with another '09er, Molly White and son Thomas. Saunders is also an advocate for Hand to Hold, a national peer support and resource navigation for parents of preemies, special needs and loss.
And in early December, children's author and artist Tricia Lowenfield made her way to Bambinos Boutique for an exclusive book signing, reading and trunk show. Lowenfield signed her most popular book, Be Kind, Be Sweet, and her newest release, just in time for Christmas, Little His Majesty, A Christmas Tale. Lowenfield presented story time to the little ones while parents Meg Walker, Stephanie Tennis, Kristina Collmar and Grace Berios shopped her handmade collection of fanciful art, ceramics, tea sets, crosses and more.
BY LESLIE FOLEY