The Mays Center To Host The 47th Annual Witte Game Dinner
"Carrying the Torch with a Texas Flair" is the theme for the upcoming annual dinner. This year's event will be held in the Zachry Family Acequia Garden and Mays Family Center along the San Antonio River. The theme honors the recent opening of the New Witte and its amazing transformation and those who made it possible. The proceeds from the Game Dinner will benefit the operations, educational programs, and exhibitions of the Witte Museum. Since March, over 150,000 visitors have experienced the New Witte and have been inspired by the Texas Deep Time narrative that connects all the galleries.
This years dinner chair will be Susan Naylor. honorary chairs will be Sam Dawson and Peggy Walker.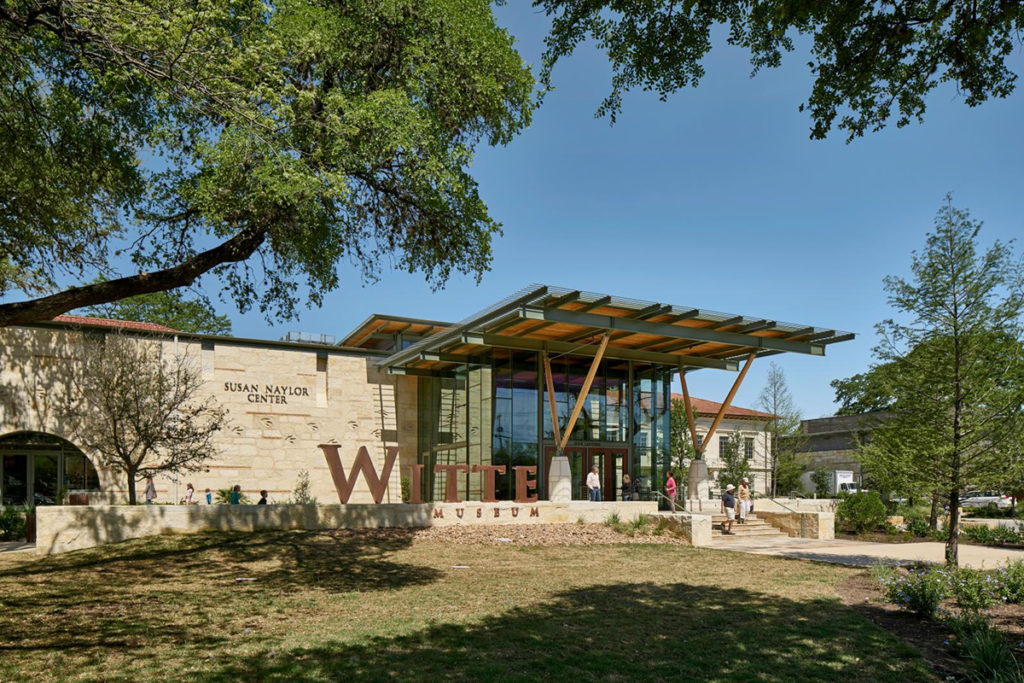 The event will feature delicious game cuisine, a live country music concert and silent and live auctions. For more information visit www/thewittemuseum.org.
The 2017 Charity Ball Association Prize Raffle Begins
As in past years, the Charity Ball Association is conducting a fabulous prize raffle with a wide range of exclusive prizes. But, new in 2017, they are offering an online auction, with the opportunity to bid on unique items and distinctive opportunities. Item values range from $1,000-$3,999. This years items include shopping sprees at area retailers, jewelry, a private theater rental for 100 people at Alamo Drafthouse, hotel stays, SPURS tickets and more. Online bidding starts Sunday, October 15, at 9:00a.m. and closes on Sunday, October 22, at 9:00p.m. Don't miss this opportunity to help the children of Bexar county.
To preview the online auction items visit www.charityballassociation.org.
Become A Charity Ball Patron
The Charity Ball's Patrons are at the core of its successful grant program as the source of the majority of the funds raised annually. Patrons are generous corporations, individuals, and private and public foundations. Last year the generosity of patrons resulted in $1 million in grants being awarded to twenty-two children's agencies.
Join this years list of generous Patrons by making a contribution to the children's charities of $1000 or more. Patrons may also choose to participate inother fundraising projects that benefit the children like participating in the rotogravure and datebook or by donating items for auction.
For more information on ways to participate visit www.charityballassociation.org.
Chair-ity Gala
Ronald McDonald House hosted its 7th Annual Chair-ity Gala featuring unique and one-of-a-kind embellished furniture for auction. Bakeries in the neighborhood including Cosmic Cakery, CommonWealth Coffeehouse & Bakery, Nothing Bundt Cakes, Bird Bakery, and Chocollazo, were a few who provided 1650 sweet treats for the sold out crowd of 300 plus. Attendees included Cindy Timmins, James Kruger, Jo Ann Andera, Jill Sands, Dr. Joe and Judy Edwards, Dr. Mark and Donna Gilger, Reed Smiley, Erin Lecce, Carole Miller, Kaye Lenox and Lourdes Ramirez Castro.
Ranch Chic Fashion Show Moves To The University Of The Incarnate Word
The Ranch Chic Fashion show is one of the fundraisers for the 39th Annual Cattle Barons Gala. Guests of the fashion show will enjoy western attire modeled by cancer survivors. Guests are encouraged to dress in their finest western wear. This year the event will be held in the Rosenberg Sky room on the campus of The University Of The Incarnate Word. The events takes place on September 14th at 6:30p.m. Other events include a poker tournament and the Annual Hoffman Smith Memorial Golf tournament.
The Cattle Barons ornate gala will take place in October and feaure silent and live auctions, game cuisine and entertainment by country music legend Dwight Yoakum.
For more information visit www.cattlebaronsgala.org.
Beer Festival Benefits The San Antonio Food Bank
The 12th Annual San Antonio Beer Festival is gearing up once again. This will be the largest Beer Festival in San Antonio, pouring over 450 premium and craft beers from 150+ breweries from around the world. A portion of the San Antonio Beer Festival proceeds benefit the San Antonio Food Bank.
This festival also features live music, interactive games, a wine garden, food trucks and food booths.
End of Summer Celebration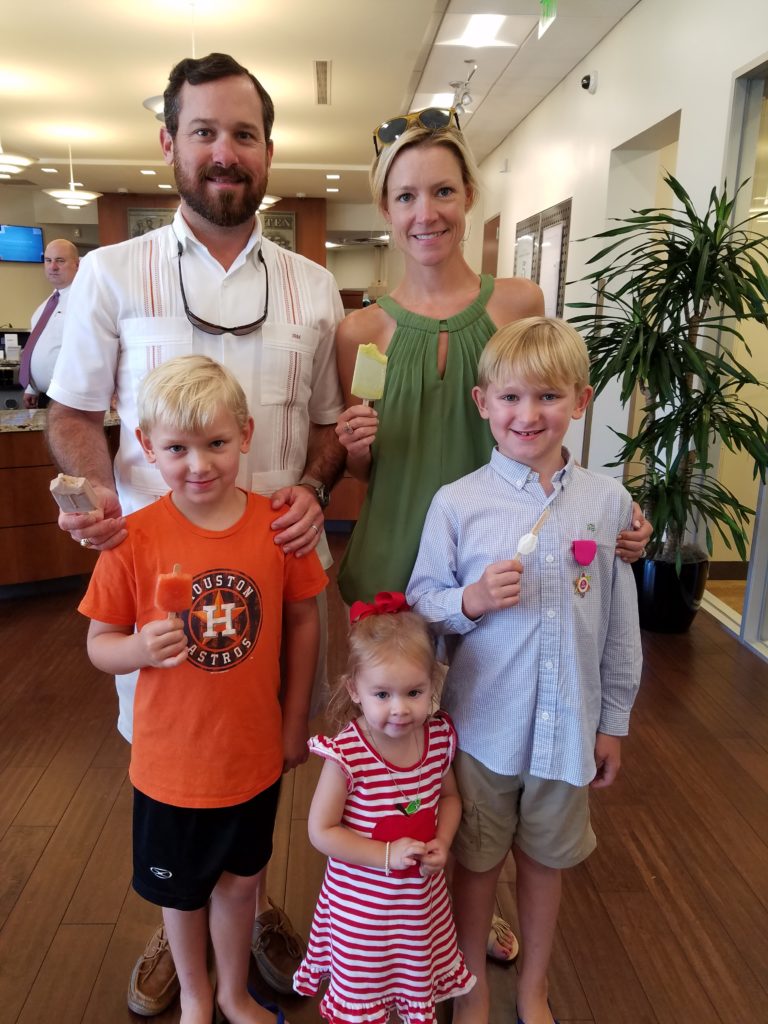 For two hours on August 18, Frost Bank celebrated the End of Summer and Back to School with unique flavors of ice pops from Steel City Pops! Families gathered at the Alamo Heights Financial Center to taste oatmeal cream pie, strawberry shortcake, and Oreo cookie on a stick. It was a great way to spend an afternoon with friends and customers.
SA Life Academy
A new program to enrich the lives of adults living with intellectual and developmental disabilities is located at 722 Robinhood Place inside St. Andrew's United Methodist Church. Visit www.salifeacademy.org to learn more.
Eclipse In '09
Our photographer, Eber Guerrero, shows us what the eclipse looked like on August 21 from 78209. We are certain he is already preparing for the next full eclipse from where we are in 2024!
Legacy of Hope Luncheon
The Honorable Patrick J. Kennedy will be the guest speaker at the luncheon September 19th, at the San Antonio Country Club. After serving in the U.S. House of Representatives for 16 years, he founded The Kennedy Forum to unite the mental health community, and co-founded One Mind for Research, a leader in open science collaboration and research. Proceeds to benefit the Ecumenical Center for Education, Counseling, and Health. The Ecumenical Center is also celebrating its 50th anniversary taking a look back and appreciating a place of health and healing for San Antonio and South Texas. Tickets are $175.00 ; RSVP to LCenanovic@ecrh.org or call 210-616-0885.
Red and White Ball
The Red and White Ball is a 12-year tradition which is hosted by the Blood and Tissue Center Foundation. Over the years, the Ball has raised $2.5 million for equipment, research, and therapies to help save lives in our community, especially for children and adults who are suffering from blood diseases such as Leukemia.
This year their cause is to raise funds for programs sponsored by GenCure which will help to increase stem cell donations to the Texas Cord Blood Bank, which is run by GenCure and is one of 13 Cord Blood Banks in the country! GenCure is a not-for-profit subsidiary of BioBridge Global and is located in San Antonio because the Bank provides life-saving stem cells to patients in need not just in SA, but all across Texas and the nation! Plus, researchers at GenCure are using stem cells to develop cutting edge products (in areas like trauma and other disease areas) and innovative therapies to provide hope to many in need! Ginny and Art Bennert – Ball Chairs, along with their committee are very passionate about the cause and its potential to help the children and adults in the community who need a life-saving stem cell match.
Attendees, close to 600 will attend the Ball, which is a black tie event. This year the theme is "A Night In Old Havana." This particular theme was selected for the idea of a having an "elegant nightclub" vibe with men in white dinner jackets and women in brightly colored gowns, reminiscent of a party in the pre revolution era in Cuba. A great deal of time was spent researching this era to make the event feel as authentic as possible; for example, the colors-coral red and light turquoise- and the iron gate motif which is on the website and invitation were selected after reviewing a book purchased called Great Houses of Havana. A bit of the decor will also mimic the beautiful mezzanine in the bar at Hotel Saratoga in Havana, Cuba. A wonderful band from Austin called Matchmaker, along with a renown percussionist/bongo player, Carmelo Torres, will provide entertainment. A silent auction and raffle will be conducted with many unique items.
Several '09ers on the board of the Foundation, many of whom who are generously giving their time as a committee member for the Ball, include
-Emily and Rich Reynolds (2016 Foundation Chairs)
-Lauren and Wes Sharples (Wes is also a newly elected AH City Council member)-Chairs, Registration
-Claire and Patrick Rouse-Underwriting and Table Sales Committee
-Ann and Travis McAlister-Chairs, Underwriting and Table Sales
-Barbara Jackson – Silent Auction and Raffle committee
-Christy and John Hinchey-Underwriting and Table Sales Committee
Foundation chairs this year are Mary and Steve Brook. Steve serves on the Operating Board of Bio Bridge Global and is the Managing Director of Langley and Banack law firm.
People who wish to donate to the cause or purchase tickets to the gala may do so at www.redandwhiteballsa.org or contact the foundation manager, Mary Dial at 249-4498.
Nuit Blanche San Antoine – A Night of Parisian Revelry
Nuit Blanche, A Night of Parisian Revelry! will take place at 6:30 p.m., on September 21st, on the grounds of the Landa Library. The gardens will be transformed into a posh picnic provided by San Antonio's finest restaurants for nearly 200 guests to benefit San Antonio Public Library Foundation. The 7th Annual Nuit Blanche is a rendition of the fabulous Parisian Diner en Blanc where thousands of Paris's chic residents gather in the city's most picturesque locations for an epicurean feast. Co-chairs Susan Brothers and Carol Lavender please ask that you wear your smartest white ensemble. Committee members Diane Mathews, Randy Mathews, Shannon Murphy, Caroline O'Connor, Andi Rodriguez, Shannon Stephens and Alice Strunk ensure a fabulous fête! I have been to the very first event, and it's really cool to see a "sea of white". Tickets and details: www.saplf.org Trey Chic!
Zoo Run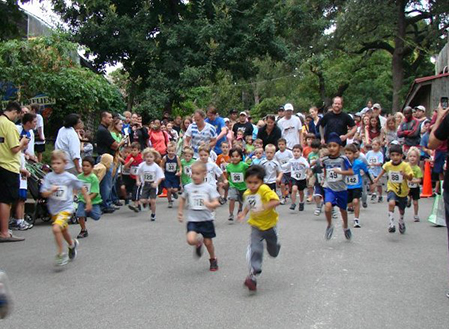 The 33rd Zoo Run Relay will take place at the Zoo on Friday, September 15th, 6:00 p.m. Grab your friends for this truly unique relay run at the San Antonio Zoo! This 8-mile run allows you to create a 4-member team with each person running 2-miles. Need to join a team or add members-they can help. Have questions? Please contact: Lisa@SolersSports.com
By Leslie Foley