Volunteer Extraordinaire Celebration
The Junior League has been in the business of training and creating volunteers and leaders since 1901. One exceptional woman, Anna-Laura Howell Block, a friend I served with in the League, was honored at the Junior League of San Antonio's annual end-of-the-year meeting as the volunteer extraordinaire for her outstanding commitment and accomplishments within our city.
As an active and sustaining member of the Junior League, Anna-Laura has been a shining example of what this honor represents. In 1980, the Junior League initiated the tradition to honor one of our own. I can say with all honesty that she has bundles of energy and volunteers her time and talent to worthy organizations across San Antonio. She served on the board of directors for over 10 years, as Community Council chair, and she I served together as waitresses in the Bright Shawl Tearoom. She led the way as president in 2002-2003.
Past recipients include Rhonda Calvert, Alison Boone, Lynn Ziegler, Jeanie Travis, Susan Martin, Anne Ballantyne, Suzanne Goudge, Jan Hill, Mollie Zachry, Peggy Walker, Marilyn Eldridge, Marie Smith, Peggy Mays, Gay Keahey, Margaret Deely, Margaret Stanley, Ellen Snow, Olive Davis, Sarah (Sally) Cheever, Nancy Zachry, Lucy Walters, Louise (Tookie) Spoor, Winifred Cocke, Phyllis Ann Vaughan, Agnes Harwood, Betty Biedenharn, Margie Rust, Candes Chumney, Dela White, Patricia (Patsy) Steves, Amanda Ochse, Louise Thomas, Elisaeth (Libby) Bishop, Maggie Block, Jocelyn Straus, Edith McAllister and Margaret (Mag) Tobin.
Moulin Rouge at the McNay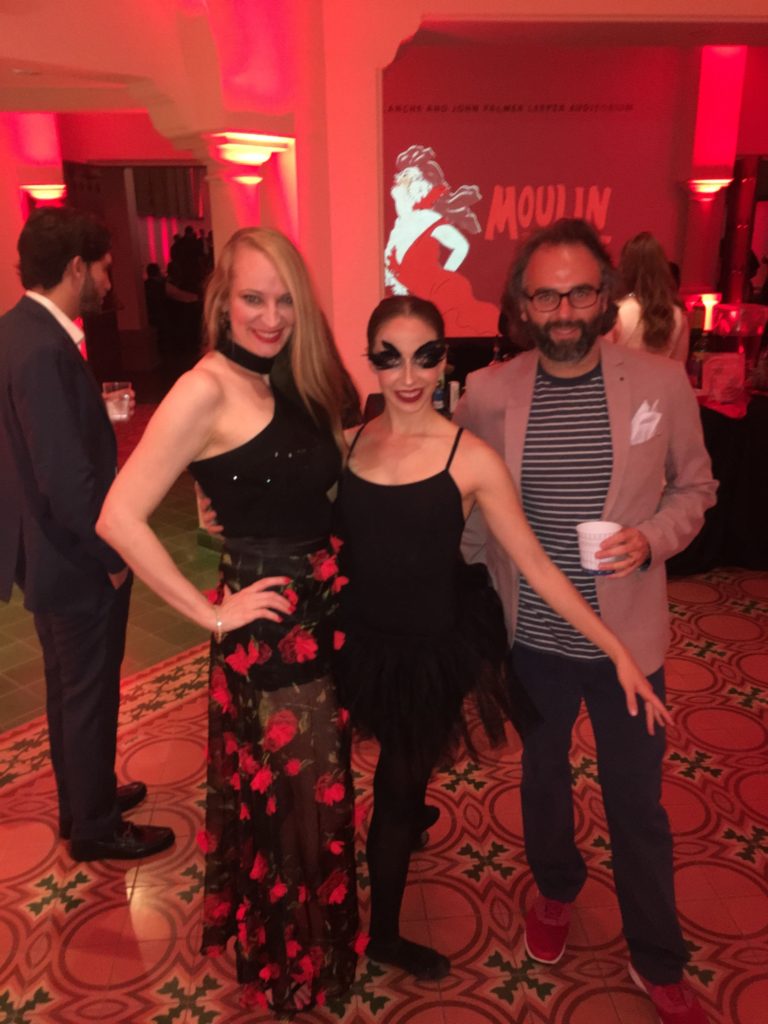 Chair Trey Evans, Lyn and Omar Akhil, Emma and Rene Farret, Cassie Jones, Ruth Morris, Eric Schluter, Kelly Strait and Alejandra Zertuche oversaw the ninth annual spring party at the McNay Art Museum. Decor was elegant and in line with the theme: plenty of dramatic red up-lighting and the mood accented with bistro lights in the spectacular Leeper Auditorium, a theme echoing that of the south of France in summer.
Roaming entertainers engaged the guests — dark and sexy ballerinas, a stilt walker with a human marionette (a big hit for photo ops) and a contortionist who captivated many of the onlookers.
Three performances were held inside the auditorium, a mini-Moulin Rouge dubbed Moulin Rouge McNay — can-can dancers, a gorgeous burlesque singer and an impressive cyr wheel presentation that you had to see to believe! Later in the evening, guests danced to the upbeat and always fun Dolphin Dilemma, who played electronically till midnight. Additional down-tempo tracks were provided on the sculpture terrace by Southtown Vinyl.
Food and drink options provided by Fresh Horizons also fit in nicely — you could enjoy a French 75 (my fave) with award-winning cuttlefish paella or a prosciutto tartine with the signature drink, the Fury Rouge. Champagne, wine and beer selections were offered to accompany other food and dessert options. Central Market Catering provided delicious croissants to wrap up the evening.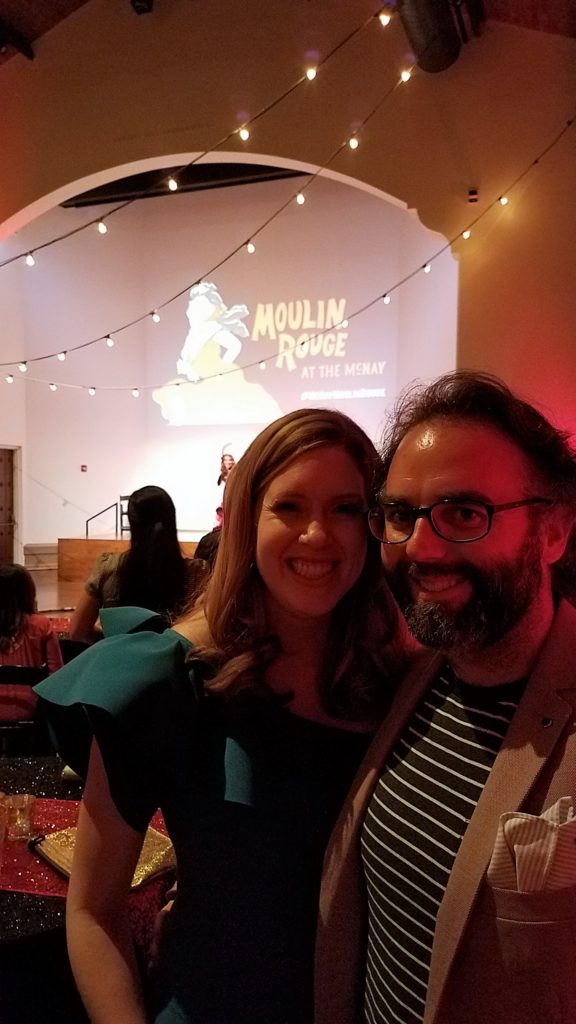 Notable guests included chairman Trey's lovely wife, Arlene Evans, dressed in a stunning couture teal jumpsuit. Eric Bell was wearing a beautiful bespoke red blazer ensemble and accompanied his always fashionable fiancée, Julie Polansky. Other guests who came out to support the arts and community art education included Dr. Alison Wiesenthal and Dr. Alexis Wiesenthal, Ellie Leeper-Morrison and husband, Dan Morrison, Ashley and Joe Birkey, Chris Vu and wife, Carrie Pry,  Jeffrey Mangold and Alejandro Perales, Kristin Zachman, Kat Fisher, Cameron Redding, Victoria Shum, McNay director Rich Aste and McNay special events manager Julie McGarraugh.
7th Annual Art in the Dark
This annual event allowed guests to utilize their senses of taste and touch to enjoy and discover art. The event benefited the Lighthouse for the Blind and the Vision Impaired, and The Blind Children's Programs. Guests Mertie and Dr. Dale Wood, Joan Gaither and Mike and Kathy MacNaughton bid on art provided by local artists, sculptors, jewelry designers and potters; the art was covered, and guests felt the art underneath a drape. Guests bid on the pieces and could view the artist's similar works, but peeking was not allowed. During the event, which was held at the Sheraton Gunter Hotel, CEO/President Mike Gilliam and his wife, Marlos, and outgoing Board Chair BJ Mamuzic and her husband, Bob Sheldon, sampled foods from Aloha Kitchen, Cheesy Jane's, CommonWealth Coffeehouse & Bakery, Chef Dady Restaurants, Corner Bakery in the Quarry and Edera Osteria Enoteca. Entertainment was provided by the San Antonio Lighthouse for the Blind Choir.
John Webster Retirement Party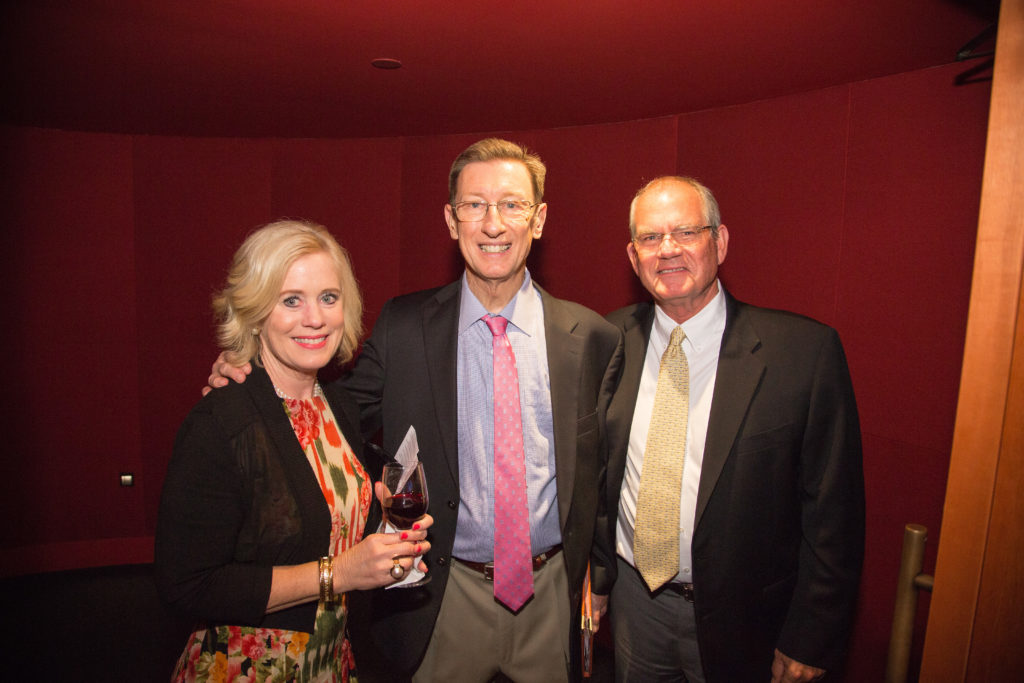 The San Antonio Academy community came together on May 9 to celebrate John Webster's 32 years of dedicated service as head of school by gathering at the Tobin Center for a giant retirement party in his honor. A social media campaign, "#FillTheTobin4John," implemented prior to the party, cast a wide net to help communicate and encourage attendance, resulting in over 1,200 guests, incuding alumni, current and former parents, faculty and staff, current and former grandparents, current and past board members and friends who heeded the call to pay tribute to "El Guapo."
Upon arrival, guests were treated to refreshments and beverages while a medley of John Webster's favorite songs filled the background. An entire wing of the Tobin's foyer was transformed into "Mr. Webster's office," which included all the unusual décor and trinkets he's collected from students over 32 years and provided the perfect setting for attendees to get their picture taken at his "desk." Over 30 various "Websterisms" (John's famous sayings from his chapel talks) were individually printed on napkins, while others were captured on Academy blue souvenir cups.
As part of his retirement party, a special program was created to pay tribute to John's legacy as SAA's head of school since 1985. The show opened with a Beatles-inspired band, The Blue Note Ringos, as a slideshow displayed images and video clips highlighting moments of John's storied career. Robert Rivard, former SAA parent and editor of the Rivard Report, was masterful as emcee. He introduced SAA's battalion commander from the Class of 1995, Pedro Martinez, who began the program just like the Academy begins each school morning with the Call to Attention and the Pledge of Allegiance. The roster of guest speakers included former SAA parent and chairman of the board John Zachry; former SAA parent and board member Laurie White; long-time admissions director, Mary Wilde; SAA alumni Chris Galvan (Class of 1990) and John Amini (Class of 2005); and current SAA board chair and parent, Steve Chiscano. As a finale, John "Chico" Newman, Jr. (Class of 1961), who as board chair in 1985 was responsible for hiring John 32 years ago, gave a heartfelt introduction to the man of the hour, John Webster.
As one of his favorite songs, Wild Thing, played while he took to the stage, Webster paused before he addressed the sea of faces so he could "take it all in," clearly overwhelmed and moved by the turnout. And in typical John Webster style, he thanked his wife, Marilyn, adult children Julia Webster Shulman and Adam Webster, and the Academy family first, before reflecting on his over three decades of dedicated service to the thousands of boys and young men whom he has led along the way. The incredible evening was filled with love, laughter and many memorable moments that Webster says: "will stay with me for the rest of my life."
Girls Craft Night Out hosted by Big Heart Parties and Events.
A group of Alamo Heights friends came together to get creative, get out of the house for a few hours and especially out of the heat! Big Heart is now hosting weekly craft nights for Moms, Nurses, Teachers, Sunday Schools, College and High School . Girls and ladies of all ages are welcome. Appetizers, wine (when age appropriate) and an enjoyable craft are all included. This particular night the ladies were inspired to make whimsical tropical fruit necklaces for an upcoming Hawaiian party in the Fall.
Save The Date
Hearts of Texas
Save the date of Aug. 19, and plan to celebrate the lifesaving work of AugustHeart. A Night of Texas Music to Save a Life will feature Pat Green at the Pearl for an up-close-and-personal experience. AugustHeart was launched in 2011. This 501( c )3 provides free heart screenings for teens in the hope of preventing tragic deaths caused by undiagnosed heart conditions. The free heart screenings, which focus on five of the most common cardiac conditions predisposing a young person to sudden cardiac death, are reviewed by a board-certified pediatric or adult cardiologist. For information email info@augustheart.org, or visit the website www.augustheart.org to sign up for email notification for screenings.
Yacht Rock
The San Antonio Library Foundation is hosting Yacht Rock Cocktail Happy Hour Fundraiser on Saturday, Aug.19, 6-8 p.m., at a private Terrell Hills home. Co-Captains Tracey Vance and Jamie Gillum, along with First Mate Ash Hollis, want you to know: Your name must be on the manifest to embark, no sales at the dock. Once you are "aboard," schmooze poolside in your finest yacht attire as you show off your captain's skills with mini-remote control boat races, or really show off your karaoke skills during the Karaoke Challenge. Tickets are $50 or four for $150. For more information, contact Brianna Kirk at 210-225-4728 x 16 or email Brianna.kirk@saplf.org.
Whiskey Business
Mark your calendar for Aug. 25 at 8 p.m. for Whiskey Business at the Witte Museum, an evening of fine Scotch, bourbons, ryes and whiskeys with delectable cuisine. Tickets are $85 VIP and $60 regular. Visit www.sawhiskeybusiness.com.
K Couture Preview Brunch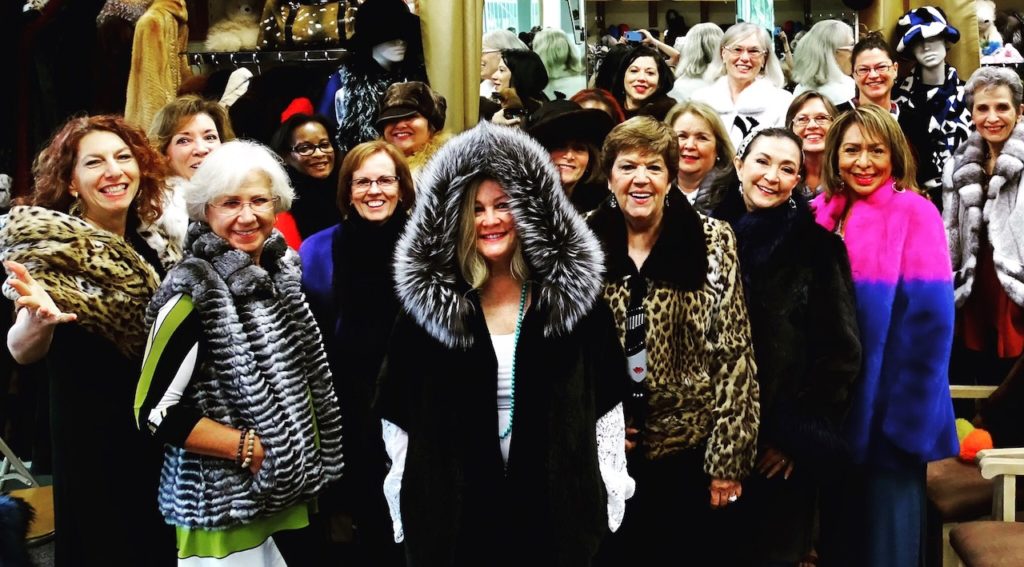 K Couture Preview Brunch, Aug. 27, 11 a.m. – 3 p.m., is Morris Kaye & Sons Furs & Fashion's exclusive sip-and-shop event. Clients have the opportunity to sip champagne and preview San Antonio's only locally designed couture fur collection before it is launched to the general public. Every garment is a one-of-a-kind design. Limited seating is available at Morris Kaye & Sons Furs & Fashions at 555 E. Basse Road, Suite 104. RSVP to morriskayefurs@sbcglobal.net.
By Leslie Foley