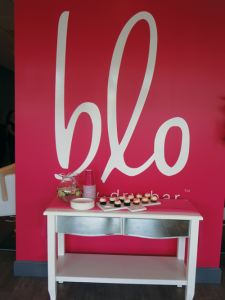 The McNAY 60th ANNIVERSARY FINALE
McNay's exclusive 60th Anniversary Finale on Friday, January 23 will feature a champagne reception in the Tobin Library and Brown Gallery, cocktails and hors d'oeuvres on the Blackburn Patio and an elegant dinner in the Stieren Center's Tobin Exhibition Galleries with focused exhibitions by diverse regional artists. The evening continues with McNay After Dark—an after-party in Leeper Auditorium with live music by Professor D, drinks, desserts and dancing. Additional after-party tickets are available for $100 per person.   Guests of this exclusive evening have contributed to the McNay's 60th Anniversary Fund for Exhibitions and Education. However, anyone can attend the fabulous McNay After Dark after-party.
WASH-BLO-GO
Just WASH BLOW GO at the new Blo Blow Dry Bar, where you can choose from Blo's pink menu of hair styles featuring classic to runway, beginning at $40. Open every day of the week, 10 chairs and enough hair spray to treat your tresses right! Blo will also cater to your special event (BOTG-Blo On The Go): girl's night out, bridal showers, corporate outings, and I am guessing Blo will be in hot demand with Fiesta right around the corner—just what every queen, deb and mom requires to look fab in a flash! For details and appointments, go to www.blowmedry.com for the skinny. And don't forget to sign up for the Mane Squeeze membership.
TORCHY'S TACOS OPENS
The much anticipated Torchy's Tacos, AKA Damn Good Tacos…a taco for every appetite, at 999 E. Basse Road, located inside the former La Posada del Rey, is offering muchos tacos. Treat your taste buds to the taco of the month, the Wrangler breakfast taco or the Democrat/Republican taco? Who would have guessed? Show some taco-thusiasm and order up! Yes, it's for real this time and opened a few weeks ago, mid-December, to the thrill of many who consider themselves in the cult. So get over there and taco-up while living the taco dream at the taco joint!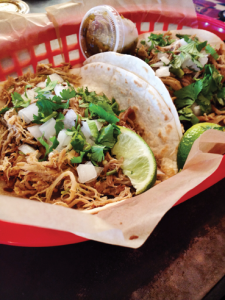 MENCHIE'S FROZEN YOGURT
A few doors down, Menchie's Frozen Yogurt was celebrating its grand opening and ribbon cutting with free yogurt, T-shirts and activities. Menchie's vision is to make you smile. Owners Tom and Cindy Ward ensure that everyone's smiling and sampling the 56 different types of offerings. Menchie's Private Label collection is made with the highest quality ingredients and exclusively with their own custom blend of flavors that can't be found anywhere else. I inquired as to what's the most popular and unusual flavor, and they told me that "Cinnabon" and "takes the cake batter" are two of their more popular flavors. Choose from "Rockin' salted caramel" or "The art of green apple tart" to make you smile.
THE QUARRY FARMERS MARKET MOVES
The Quarry Farmers & Ranchers Market was told to close in early December to allow for additional parking spaces and to help ease congested areas on Sunday mornings. After Facebook fans, vendors and customers, shocked by the decision to evict, aired their own ideas, the market relocated to The Yard Shopping Center just off McCullough Avenue across from Olmos Park residential streets. The popular market, now known as The Yard Farmers & Ranchers Market, will continue to feature the finest and freshest produce every Sunday for faithful followers. This market is a popular venue with quite a following. From the likes of its customers' responses, it is going to be missed at its old location, but it has been welcomed at its new one, where it opened on Dec.14. It even has a new home online as well – www.theyardfarmersmarket.com. Be aware that parking can be a challenge. But don't think about scoring a spot in the neighborhood across the street. Signs are already up warning folks about that.
IMPACT URGENT CARE COMING TO ALAMO HEIGHTS
Impact Urgent Care, one of San Antonio's most in-demand urgent care practices, is expanding its services to a new location, Impact Terrell Oaks, 1211 Austin Highway, to better serve the Alamo Heights community. Opening in February, the new location will provide the same outstanding medical care and service that led to Impact Urgent Care receiving the Texas Physician Practice Quality Improvement Award for two consecutive years. Impact Terrell Oaks will offer extended hours, from 8 a.m. to 8 p.m., quality medical care, compassionate service and convenience to individuals and families right where it needs to be – in their neighborhood.
A MOVE FOR SUGARPLUM DREAMS
Sugarplum Dreams has a new address at 5932 Broadway —Uptown in the Alamo Heights Shopping Center, along with Bird Bakery, TCBY North, Penny Lane, Baker Tatum, Elaine Turner and Impeccable Pig. Check out the new line of hand-painted furniture and other finds in this friendly store that caters to the younger crowd.
BY LESLIE FOLEY