Terrell Hills Development Services & Public Works Director Wears Many Hats. But Gary Hunter's Favorite One Is A Surprise…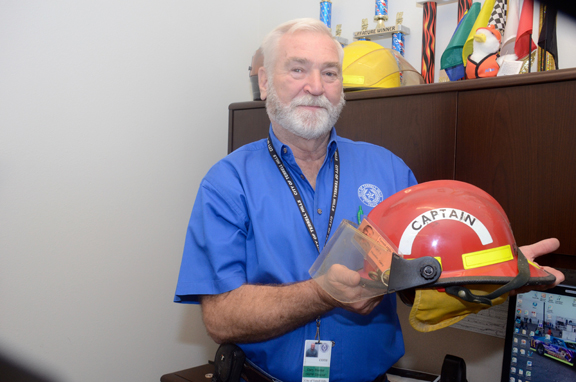 The man responsible for trash pickup and recycling, street repairs and commercial and residential building inspections in Terrell Hills loves getting his hands dirty.
Indeed, Gary Hunter enjoys tinkering with trucks and automobiles so much you can often find him in the Public Works garage helping to repair trash trucks and other vehicles.He also drives race cars on a dirt track weekends in Corpus Christi. He's been racing for the past 14 years and has won a number of championships in his car #4, including four back-to-back titles. Hunter apparently lives up to his nickname – "Taz."
But his real love, his passion, is firefighting. And that's what brought him to Terrell Hills in 1981.
"I was a volunteer firefighter in Bexar County in the late 1970s and loved it. So I went on to graduate from the San Antonio College Fire Science Program and was certified as a Texas firefighter," he told 78209 Magazine.
He worked his way up through the ranks to become a shift captain and fire inspector before transferring into other departments in Terrell Hills. But while he may no longer fight fires, much like the retired fire horse, he still responds to the bells.
"I do miss the firefighting," Hunter says. "If there's a fire, I'll help out with equipment and air packs and refreshments for the firefighters. Once you are in the fire department, you are always hooked on it."
Hunter, 64, grew up in Houston and lived there for 13 years. He moved to San Antonio with his parents when his dad, an insurance salesman, was transferred. His mom went to work for Montgomery Ward and then Lack's Furniture. He graduated from Holmes High School and played tailback and linebacker on the Husky football team.
"All the buildings were round when I went to Holmes. I was told they built it that way so you couldn't get lost," he said. Maybe that explains why he drives race cars on a quarter-mile circular dirt track.
Hunter serves as Terrell Hills' building inspector in addition to his responsibilities as development services and public works director. He does construction plan reviews, including permitting for new residential construction, renovations and additions. Hunter also assists the city manager with street and road projects. And, he oversees the city's storm water management program.
As director of public works, he manages the city's garbage, refuse, brush, leaf and tree disposal plus recycling.
His department has 13 fulltime employees and four garbage trucks – two are used for garbage pickup, one for brush, and the fourth is a spare. Hunter said, "I frequently take out a pickup truck to pick up garbage and leaf bags on my own just to see what's happening out there and to give our folks a hand.
"We're one of the few communities that will go into people's yards and garages to fetch and return their trash cans. About 15 percent of our residents – mostly older people — ask for that service," he says.
Hunter works long days – often arriving at City Hall by 8a.m. and leaving long after 5p.m. But he loves the work. At age 64 he could be thinking about retirement. But he's not.
"If I wasn't doing this, I don't know what I'd be doing. I've always been an active person, so I need to be busy."he says.
As for which hat is Hunter's favorite, it's not hard to figure that one out. There are two. His race car and firefighter's helmets sit in a prime place in his office – on top of his office bookshelf.
BY RON AARON EISENBERG