More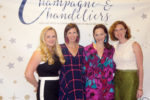 This month In the Loop introduces the Belles of The Symphony Ball, covers the Delta Delta Delta Spring luncheon where they raised money for local charities and do a rodeo recap.
Mardi Gras and Valentine's Day are over, but don't fret — there's plenty of celebrating going on!
A monthly report of social happenings involving 78209 residents enjoying life in the Loop. 'Tis the month of chocolates, champagne, hearts, greeting cards and everything heartsy that goes with Valentine's Day.